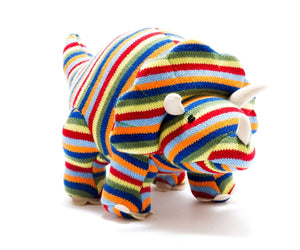 Our popular triceratops knitted dinosaur soft toy now in rainbow stripes. This addition to the family makes an eye catching gift for any dinosaur mad boy or girl. Robust enough for imaginative play but soft enough for cuddles.

TOMMY TRICERATOPS
Tommy's jokes drive his friends round the bend
But this triceratops in a loyal, loving friend.
You might not always think he's funny
But when the chips are down, he's your bestest buddy.

Material: acrylic yarn, polyester fill
Approx. Dimensions: 30cm x 17cm x 17cm
Ethically sourced from: our long term partners in China.  Want to know more?  Click Here
Colour: rainbow stripes
Care:  Machine washable
Age Suitability:  Suitable from birth
Safety Testing:  UKCA / CE