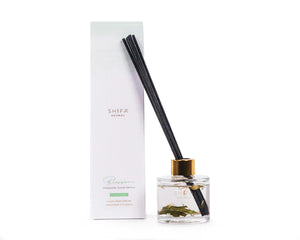 SHIFA AROMA botanical artisan home fragrance is elegantly crafted with the finest fragrances and essential oils, infused with natural flowers, woods and resins. SHIFA AROMA Soy wax candles, eco-friendly diffusers are hand-made and hand-poured with care in small batches in our family workshop in Yorkshire, therefore, making each product special.
Each candle and diffuser has a uniquely designed wellbeing/lifestyle symbol to help you choose the perfect Shifa Aroma product for your home and soul. SHIFA AROMA candles are vegan friendly, paraben free, SLS free. Our diffusers are eco-friendly and paraben-free.
SHIFA AROMA fragrances are hand made in Sheffield and beautifully decorated with flowers and spices.  The scents are all lovely, original and very popular with our customers,.
BLOSSOM - Honeysuckle, Rose and Oakmoss This limited edition fragrance is a fresh floral harmony of Honeysuckle with a hint of Passion Fruit and Lemon followed by a sensual floral heart of Ottoman Rose and Jasmine, resting on an aromatic base of Oakmoss, Tonga,Amyris and Musk. This diffuser is infused with delicate petals of soft pink Cornflowers, Jasmine flower buds and Lemon leaves.
Luxury Diffuser | 100ml | 7 Fibre Reed Sticks | Lasts up to 10-12 weeks