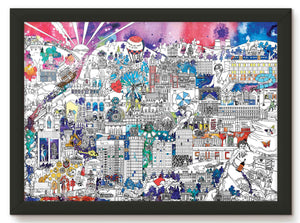 An explosion of colour meets energetic lines in this drawing of the most geographically varied city in England!
This bright artwork pays homage to Sheffield's industrial heritage amongst its contrasting hills and green spaces. Sheffield has a suprising amount of public greenery, with trees outnumbering the human population approximately three-to-one!
Meha's illustration stops to celebrate the city's architecture and art alongside its many talented artists, musicians, actors and athletes.
This piece puts Sheffield in the spotlight and is sure to delight those who have studied, worked or simply enjoyed a visit here. \
standard A3 size