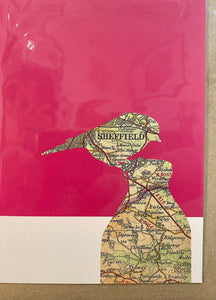 A beautiful card from Kate Thornton collection of cards and prints featuring sheffield map.
Kate Thornton is a British artist specialising in greetings cards and prints. Kate's current work takes inspiration from her interest in natural history with a particular focus on British birds.
 "I'm drawn to shapes and outlines in nature, taking elements from these contexts to create designs that have bold images and silhouettes at their heart. There's a connection made between people, place and natural landscapes in the use of old maps which interests me.
The joining together of vintage materials, pops of colour and a simple graphic style creates work with both a historic and modern feel. I think my work has broad appeal and I enjoy sharing my love of birds with people of all ages!"
Kate works in paper-cut, drawing, printmaking and digital design to produce print and stationery collections.