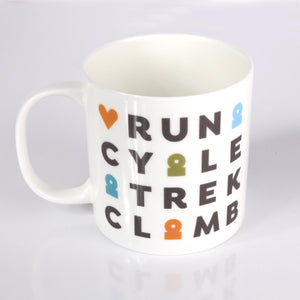 Fine Bone China – Five colour screen print.
Design: Run Cycle Trek Climb - Always Moving
Design Range: I Love Parks.
Sentiment: inside the back lip is 'Always Moving'
Designer: Si Homfray
Product Specification:
• Fine Bone China
• 1 PINT capacity/473 ml
• Made in Stoke, Staffordshire
• Dishwasher proof
A very large sized mug for extraordinary running people…
A high quality piece of fine bone china art.  A very large sized mug for active people always on the move.
This pint pot is inspired by the Pints of steaming tea in the legendary Café in Horton in Ribblesdale in the Yorkshire Dales National Park.
Happy memories as a 14 year old doing the 3 peaks with Whernside Manor and the great team that staffed it back in the 1970's have left the importance of a pint pot of steaming sweet tea indelibly burnt into my memory. As massive a refreshment as completing the 3 Peaks of Yorkshire itself.