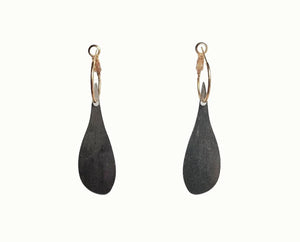 Beautiful new Jewellery from Designer Fotini Liami which combines strong architectural pieces with organic, artistic styles. 
These Metallic Long Drop Hoop Earrings are crafted in Greece, using hand techniques and traditional bronze with a luxe patina finish. Symbolizing the timeless beauty of nature, these earrings are sure to add a touch of elegance to any look.
Dimensions: 6.5cm x 1.5cm
Hooks are silver with gold or silver plating.
Handmade in Greece