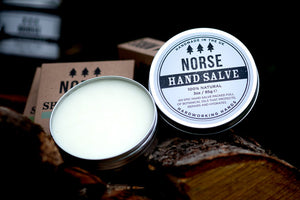 "Paw Chutney for hardworking hands" what more do we need to say. Our hand salve was designed to repair and protect your hands.
Made from 100% natural ingredients our hand salve was developed with those who 'use' their hands in mind. It is not for the key board warriors of the world it is for those who roll their sleeves up, plunge their hands and in and worry about the consequences later. Whether you are a gardener pulling out roses with your bare hands; a climber that skinned their fingers hanging off an epic overhang; or a midwife who is constantly washing their hands our hand salve will promote the healing of the skin and get you back on your A-game quickly.
The rich protective moisturisers repair and nourish dry and damaged skin, the beeswax will promote the healing of damaged skin and the essential oils are selected to deal with the bacteria that can exacerbate cuts, cracks and dry skin on the hands.
Who are Norse? We are a family owned business based in Kingston upon Thames, all our products are hand made in the United Kingdom.
Ingredients

Beeswax, Shea Butter, Jojoba Oil, Sweet Almond Oil, Cocoa Butter, Grape Seed Oil, Rosemary essential oil, Lavender essential oil, Tea Tree Oil, Lemon essential oil.