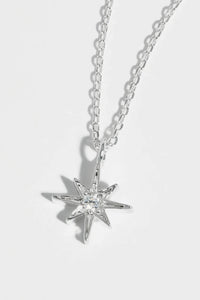 If you love stars or know someone who does, our North Star CZ Pendant Necklace is the perfect gift. Featuring a silver plated star charm with a CZ stone in the centre, the pendant can be worn alone for an elegant look or can be layered with any of our other silver chains for a bolder look.
CARE RECOMMENDATIONS
Most of our jewellery requires very little care. To keep your Estella Bartlett pieces looking their best, we recommend avoiding contact with water or perfumed products, such as bath or beauty products. It's also best to remove jewellery while you shower, swim, or go to the gym.
Over time, plated jewellery may tarnish, but you can prolong its life by keeping it out of direct sunlight and storing it in a jewellery box when it isn't being worn. This also helps to prevent more delicate chains from getting tangled or pulled.
We hope that you enjoy wearing your Estella Bartlett jewellery.