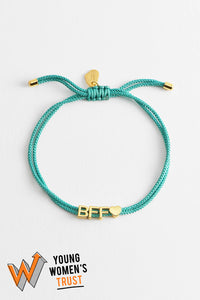 Description
As part of our Estella Bartlett's ongoing partnership with Young Women's Trust, they have designed this BFF Slider Bead Friendship Bracelet for International Friendship Day! All profits made from this piece will be donated to the organisation throughout the year.
This BFF Slider Bead Friendship Bracelet is the perfect gift to give your best friend on their birthday, best friends day or any other day! Featuring gold plated beads that spell out 'BFF' with a heart charm and an adjustable turquoise coloured cord, this versatile bracelet is one accessory they will cherish forever.
The bracelet measures at approximately 24cm long on an adjustable slider chain.
CARE RECOMMENDATIONS

Most of our jewellery requires very little care. To keep your Estella Bartlett pieces looking their best, we recommend avoiding contact with water or perfumed products, such as bath or beauty products. It's also best to remove jewellery while you shower, swim, or go to the gym.
Over time, plated jewellery may tarnish, but you can prolong its life by keeping it out of direct sunlight and storing it in a jewellery box when it isn't being worn. This also helps to prevent more delicate chains from getting tangled or pulled.
We hope that you enjoy wearing your Estella Bartlett jewellery.