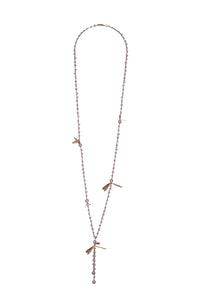 Beautiful new Jewellery from Designer Fotini Liami which combines strong architectural pieces with organic, artistic styles. 
Elegant longer necklace, with stylised dragonfly wings and a mix of freshwater pearls. This design has a mini tassle at the end. 
Designer Fotini Liami's collections celebrate the long and esteemed goldsmithing traditions of her native Greece. 
Made from gold plated bronze with freshwater pearls. Clasp fixing.  
Approximately 56cm long when worn.  
Handmade in Greece.