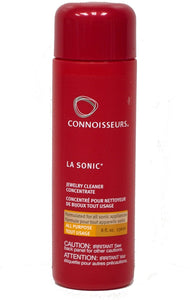 Connoisseurs Sonic Jewelry Cleaner Concentrate is specifically designed for use in Connoisseurs sonic appliances and other ultrasonic jewelry cleaning machines. When diluted, the Regular Formula acts with high-speed electrosonic waves to clean diamonds, precious stones, platinum and gold jewelry.


Ultrasonic jewellery cleaner solution

Made to be mixed with water

Combine 1 part cleaner to 7 parts water
HOW TO USE

1. Fill cleaning tank to first fill line with either Connoisseurs Precious Model 772 or Delicate Jewellery Model 1047. Cleaner or diluted solution of the La Sonic Jewellery Cleaner Concentrate (sample included).
2. Add warm water to the top fill line in tank.
3. Place jewellery on supplied hook. Cover tank with lid.
4. Turn on tank for one minute to clean jewellery. The solution can be reused many times.
5. Rinse jewellery in warm water and dry with a soft, lint-free cloth.