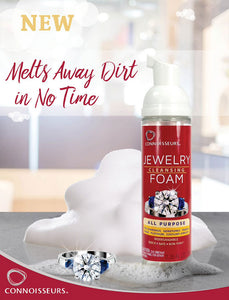 Connoisseurs new Jewellery Cleansing Foam is a gentle yet effective cleansing solution that penetrates deep down into the crevices of jewellery and between the prongs to offer a cleansing method that jewellery owners will find easy and convenient to use.
Connoisseurs Jewellery Cleansing Foam cleans all types of jewellery. It cleans gold, platinum and silver jewellery, precious and delicate gemstones, pearls and fashion jewellery and makes it easy to clean large pieces as well.
HOW TO USE
Apply the foam directly to your jewellery. Let it soak for 30 seconds. Work the foam into difficult places if needed with a soft brush (not included) then RINSE THOROUGHLY with warm water and dry. Repeat if needed.
Jewellery Cleansing Foam is NONTOXIC and BIODEGRADEABLE.

Suitable for pearls, opals and other delicate stones.