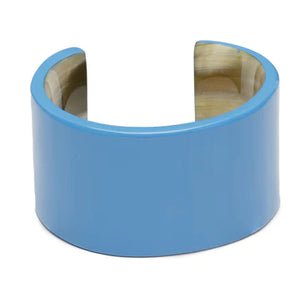 This gorgeous light blue coloured lacquered horn cuff has been entirely handmade from ethically sourced buffalo horn.

Handcrafted by small workshops in rural Vietnam using traditional methods and supporting local communities with income through manufacturing.  The horn itself is a by-product of the farming industry in Vietnam.
The outside of the cuff is coated in a perfectly smooth light blue lacquer and the inside is left white natural.

This striking light blue horn cuff looks amazing on and super lightweight, making it very comfortable to wear.

Measurements:   Please note as this item is made completely by hand sizes may vary slightly from piece to piece

Materials:
Ethically sourced Buffalo horn coated in a smooth lacquer