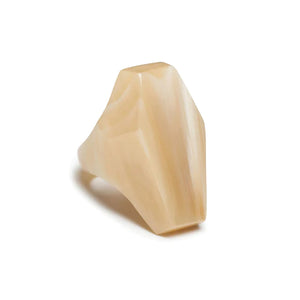 White abstract horn ring.
This chunky white ring is surprisingly comfortable to wear despite its size.  
Expert artisans have made this stunning ring entirely by hand from ethically sourced materials and what's more, we ensure that Fair Trade policies apply to all production. 
The top of the ring features a faceted shape finish. This lovely white horn statement ring is super versatile and will add a cool edge to any outfit night or day.   

Made entirely by hand from sustainable materials.
This lovely ring has been handmade by small workshops in rural Vietnam using traditional methods and supporting local communities with income through manufacturing and trade.  The buffalo horn is 100% a bi-product and the ensure Fair Trade policies apply on all production.