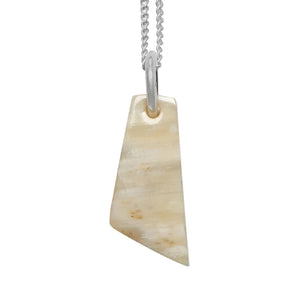 Ethically sourced natural white horn has been expertly shaped and set with a solid sterling setting on an 18inch silver chain to create this stunning white patterned pendant.
The horn consists of unique beautiful patterns, so no two pendants are ever quite the same. 
This pendant will look great dressed up or down. 

Made entirely by hand from sustainable materials.
This lovely pendant has been handmade by small workshops in rural Vietnam using traditional methods and supporting local communities with income through manufacturing and trade.  The buffalo horn is 100% a bi-product.
Measurements: 
The pendants measure 3.2cm from the top of ring to bottom and the widest part is 1.2cm. Set on an 18inch chain.

Materials:
Ethically sourced Natural Buffalo horn
Silver