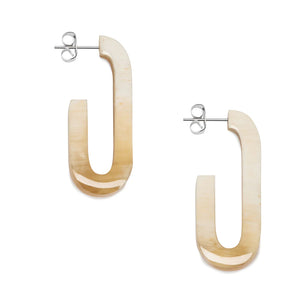 We all love a hoop earring and these oblong shaped white horn earrings are really ticking all the boxes. 
The oblong shape of these earrings make a very cool change from the standard rounded hoop and they look so stunning on. 
These white natural horn hoops have been made by hand to the highest quality and are so light you won't know you are wearing them. 
Colours and patterns may vary due to the natural marking on the horn material. 
Made entirely from ethically sourced materials and fair trade produced. So not only do they look great, but you can also rest assured that these earrings are ethically produced. 
Set with a stainless steel post and available in an array of colours. These earrings are super versatile and will look great dressed down or dressed up.  

Ethically sourced and produced buffalo horn earrings.  These lovely earrings have been handmade by small workshops in rural Vietnam using traditional methods and supporting local communities with income through manufacturing and trade.  The buffalo horn is 100% a bi-product.
Due to these earrings being made from a completely natural material, colourings and patterns will vary from piece to piece, making each pair unique.  
Measurements: 
Hoops are 3cm wide and 0.5cm thick

Materials:
Ethically sourced Natural Buffalo horn. 
Stainless Steel earring post.