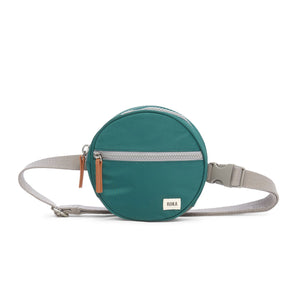 Time to look extra hip!
Our Paddington Hip Bag is the perfect round bag to wrap around your waist to add style and colour to any outfit.
With a front zip pocket, a secret pocket inside, and plenty of space for your keys, sunglasses, and cell phone this little hip bag is going to change your life in a big way! With adjustable waist strap, sturdy zips and made with weather-resistant, sustainable material. Be hands-free and looking spot on!
What's what?
At ROKA, we take pride in our brand and our products. Here's a look at what this bag is made of:
Outer material: weather resistant recycled nylon for a smooth feel (triple coated)
Base material: weather resistant canvas (triple coated)
Lining material: matte nylon
Hardware: galvanized, smoked, branded metal
Straps: cotton webbing
Size: 16.5cm x 16.5cm x 6cm.
Details, details, details.
Inside each ROKA Paddington bag is a small personal pocket, sectional organizers, and padding to add comfort when carried.
Take care
All of our products are creature friendly and vegan. While ROKA bags are washable, usually a simple wet sponge does the job. The materials used are designed to be durable and weather resistant.
Did you know?
Emma's first job in London was in Paddington and as it's such a vibrant part of London, we felt we really should have a collection named after it!