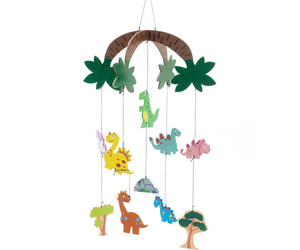 Handmade fair trade wooden dinosaur mobile. Why have a mobile? A mobile is not just for decoration, it also helps the baby's eyes. When a baby is watching a mobile, their eyes move backwards and forwards as the mobile moves, and then as they grow older they move their head to follow the movement. This helps strengthen the muscles in the eyes and the neck. A mobile also helps the baby develop the ability to judge distances and their spatial awareness.
Our light weight mobile comprises of 6 brightly coloured dinosaurs and trees and rocks - guaranteed to capture your baby's attention.
Please note that this is not a toy and has not been safety tested as a toy. Please keep out of the reach of children. For decorative purposes only.
Approximate dimensions: Pieces: 3 - 7cm
Hanging length: 40cm
Packaging: 27.5cm x 12cm x 1.5cm
This is a handmade item so dimensions can vary and are given as a guide only.