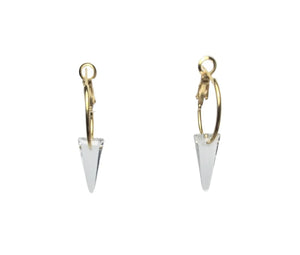 Beautiful new Jewellery from Designer Fotini Liami which combines strong architectural pieces with organic, artistic styles. 
Fotini Liami's collections celebrate the long and esteemed goldsmithing traditions of her native Greece. At the heart of this collection is the very distinctive gold plated bronze; finely hammered and ultra lightweight.  Fotini mixes bronze gold and silver  these beautiful metals with the widest variety of beads, elements; including leather, linen, resin, silicone, glass, crystals and freshwater and faux peals.  Earring posts are gold plated sterling silver, or sterling silver
Hooks are silver with gold or silver plating.
Dimensions 3 cm Long
Handmade in Greece